Folding plates and stainless steel sheet
Equipped with a press brake with numerical controls of length 4 meters, DVAI proposes the folding long lengths of your pieces and sheets cut with the laser or with the plasma in stainless steel. Whether the steel sheet is stainless steel 304L or 316L, it is the same for us, the two fold as well.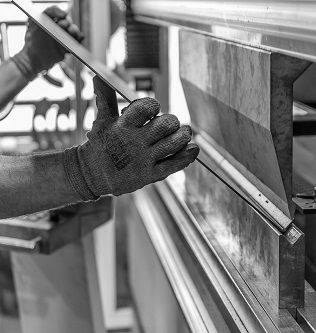 Technical characteristics of folding
After cutting, DVAI ensures the long folding of any stainless steel profile: Corniere, U folded, Z folded, folded boxes, omega and profiles according to plan.
Power: 370 Tons
Maximum bending length: 4m
Max thickness 20 mm according to length: contact us.
Programmable machine: possibility to make complex profile pieces
NC-controlled axle position for better bending accuracy and excellent repeatability of pieces
The folding of your pieces is done on the same production site as cutting for short lead times.
Other technical data of folding
Bending depth> 350mm: maximum length foldable 3600mm
Box with 3 flaps : no maximum box closing height
Box with 4 flaps : maximum height for closing : 150m