Water cut
DVAI cuts metal (stainless steel, aluminum) with high-pressure water jet thanks to a large capacity machine that allows the execution of a very wide range of cut pieces for both single and small parts.
Expertise
Custom water jet cutting on customer supplied material
In any supply or custom with the material supplied by our customers, DVAI offers stainless steel parts, aluminum, nickel alloys or titanium cut with large water jet. To save time, send us your files in dxf or dwg format.
Large cutting table format: 4.50 m x 14 m
Thanks to its expertise of 30 years and specialized software, DVAI optimizes the nestings of your sheets to reduce the number of sheets used.
Water cut
Piece chamfering with water jet
Equipped with a 5-axis head, the DVAI water jet cutting machine realizes the chamfer of your cut pieces or ferrules. It is possible to consider many chamfers (chamfers X or V) with or without heel. This saves time for the preparation of your metalmaking or boilermaking industry pieces.
For better value for money, DVAI can also chamfer pieces cut with another technology (plasma, sawing, laser). The mini chamferable thickness is about 6mm.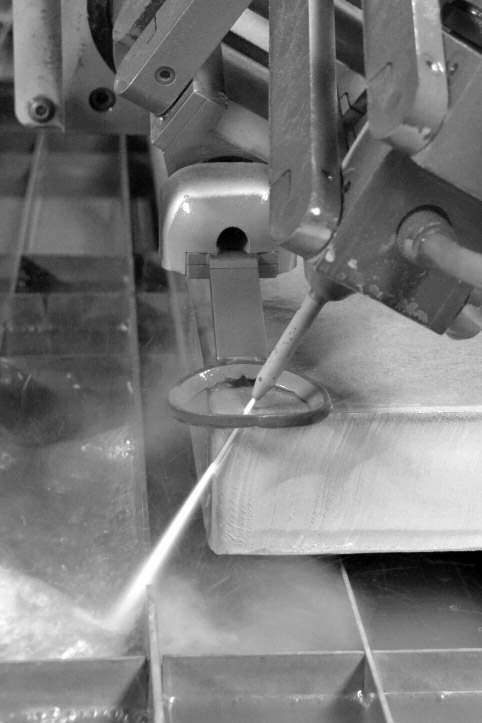 Understand
How does water jet cutting work
The principle of water jet cutting is always the same: the water is pressurized by means of specific pumps (high pressure pump) to cut the material. On the other hand, depending on the material to be cut, one can distinguish very different techniques.
Different techniques of water jet cutting
According to the materials to be cut, there are two techniques :
cutting with pure water for soft materials of small thickness. A material is said to be soft if it "sinks" by applying a slight pressure on its surface. The water jet is very thin and allows very small and very precise cuts.
abrasive cutting for hard materials such as metals (steel, stainless steel, nickel alloys, titanium, aluminum) but also minerals (marble, glass, stone), plants (wood, medium) and composite materials. A special abrasive is added to the water at the nozzle before the jet is sprayed onto the material. The water jet loaded with abrasive such as garnet uses the material and allows any type of cutting. The amount of abrasive material varies depending on the hardness of the material to be cut. The grain size of the sand is controlled to ensure a consistent quality cutting and this is also valid for cutting very high precision.
Through its facilities, DVAI is specialized in cutting on hard materials and in particular for metals.
The benefits of waterjet cutting
As described above, the main advantage of the water jet cutting technique is its ability to cut all metal materials and plastics in a very wide range of thickness :
– rubber, silicone, foam, elastomer, leather, carbon fiber, fiberglass, composite materials, plastics and polymers (Polyamide – polycarbonate – PTFE – PET),
– Non-ferrous metals, steels, titanium, brass, sandwich and complex materials, tiling, earthenware, stone, marble, granite, glass, mirror, wood, medium …
The water jet : a cold cutting process
First and foremost, it is a cold cutting process whose remarkable points are :
– absence of ZAT (heat-affected zone): therefore no modification of the structure of the material during the cutting process, nor hardening or hardening in the vicinity of the cutting zone.
– no deterioration or deformation of the material due to heat: the cold cutting processes therefore limit the deformations related to the phenomena of stress relieving amplified by the heat caused by some.
– cutting processes (laser, plasma in particular). The geometric characteristics of the pieces are preserved.
– very little burr on the inferior surface of the cut piece.
The ideal water jet cutting to cut any material
It is a universal cutting process that allows :
– cutting all soft and hard materials Piece Cutting Jet d'eau
– cutting laminated or composite materials (composed of several different materials)
– the cutting of materials of different thickness (variation of the thickness)
– the cutting of hollow material type honeycomb material.
Water jet cutting technology is highly accurate
Finally, water jet cutting is a precise cutting process whose precision can be modulated. Indeed, it is the only cutting technology to modulate the cutting speed up to 5 different quality steps. From separation of material to cutting in very fine quality, the speed is adapted to cut with a more and more important precision.
Here are the quality levels possible with our water jet cutter and the associated cutting accuracy :
– cutting in raw quality (or clean draft): tolerance +/- 1 mm + strong presence of streaks on the edge
– cutting in medium quality (intermediate quality) tolerance up to +/- 0.5 mm + attenuated presence of cutting streaks
– fine or very fine quality: toelrance +/- 0.15mm without streak